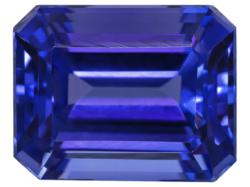 Knoxville, TN (PRWEB) July 03, 2013
Jewelry Television, one of the worlds largest retailers of tanzanite, is celebrating the many moody blue hues of tanzanite. Discovered 46 years ago deep in the foothills of Mount Kilimanjaro in Tanzania, Africa, tanzanite is a rare gemstone ranging in color from luscious blueberry to striking indigo. JTV will feature the many mood-reflecting colors of tanzanite July 5 through 7.
Tanzanite is one of the most sought-after gemstones in the world, said Jill Johnson, vice president of marketing for JTV. This gemstone is 1,000 times more rare than a diamond and owes much of its beauty to an unusual gemological property called pleochroism, which is the ability to exhibit more than one color. Tanzanite can exhibit blue, blue-green, violet, purple, bronze or even gray hues.
Discovered in 1967, Henry B. Platt, great grandson of Louis Comfort Tiffany and later President of Tiffany & Co, named the stone Tanzanite. He introduced it to the world with great fanfare at Tiffany & Co in 1968.
During the Moody Blues of Tanzanite anniversary event, JTV will highlight several of its exclusive collections including Kutamani Tanzanite and bi-color Tanzanite. Kutamani Tanzanite offers you the look of the finest tanzanite at affordable pricing. JTV will also showcase stones from both the Vault Signature and Vault Heirloom Tanzanite collections. All of the Vault pieces are sorted, graded and inspected before being cut, polished and sent to an independent lab for certification and laser inscription.
Because tanzanite has only been found in one place in the world, experts do not expect the supply to last forever, said Johnson. Some gemologists predict that supplies will be depleted within 30 years, making the opportunity to own tanzanite even more attractive to consumers around the globe.
JTV offers more ways to shop. Check your local television listings, shop online at http://www.jtv.com or download free mobile shopping apps for the Android, iPhone and iPad.
About Jewelry Television